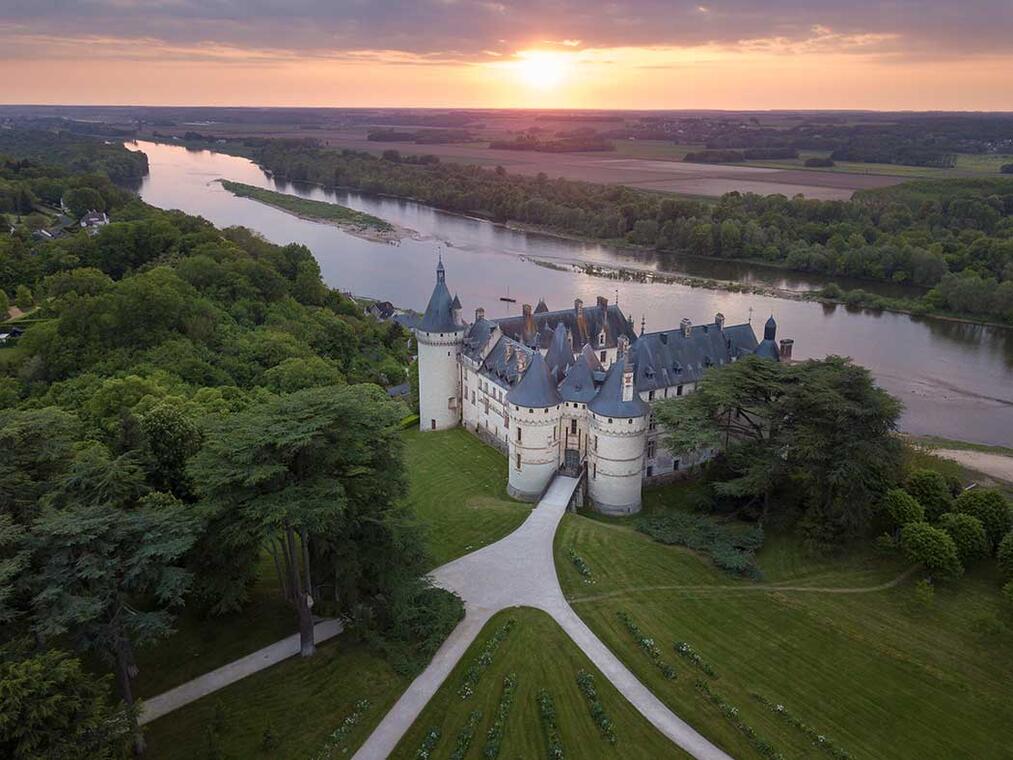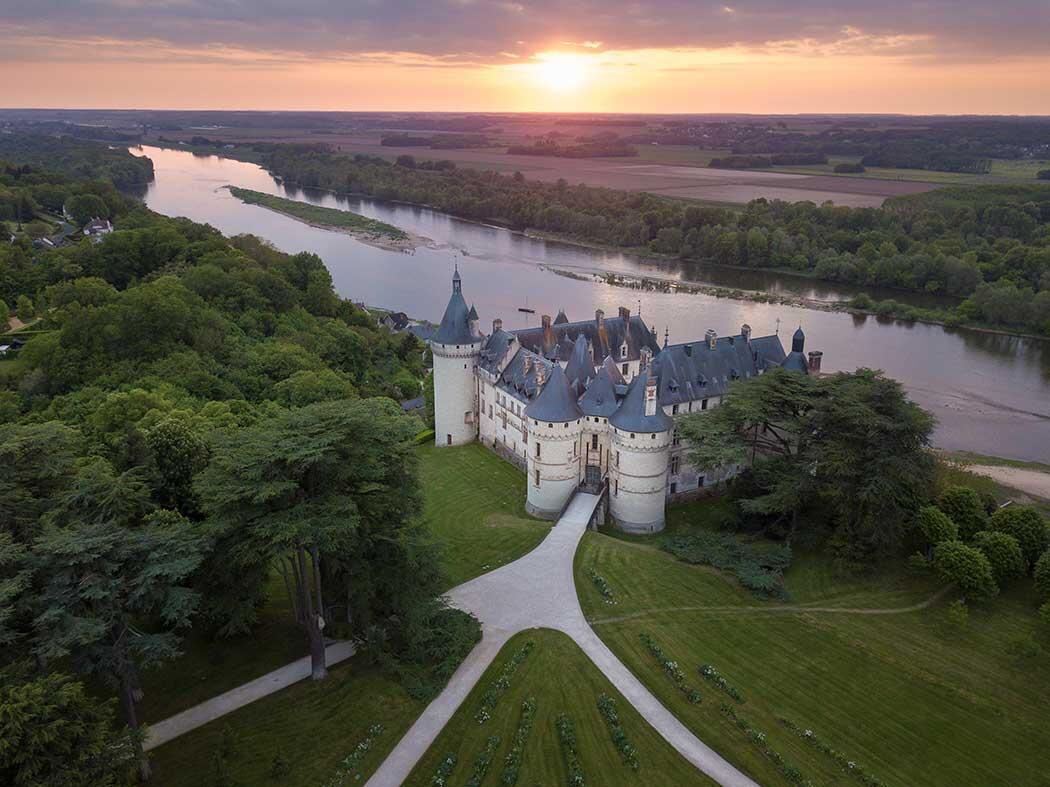 Domaine Régional de Chaumont-sur-Loire
World Heritage (UNESCO) , Castle , Park and garden
at Chaumont-sur-Loire
Less than 200 km south of Paris, nestling between the cities of Tours and Blois, is a haven of poetry. A natural oasis, a headland stretching out 40 metres above the wild Loire, Domaine de Chaumont-sur-Loire, owned by the Centre Region, welcomes t...

Less than 200 km south of Paris, nestling between the cities of Tours and Blois, is a haven of poetry. A natural oasis, a headland stretching out 40 metres above the wild Loire, Domaine de Chaumont-sur-Loire, owned by the Centre Region, welcomes the public all year round to its château and park and, from April to the end of October, to the unmissable International Garden Festival. Whatever the season, the château – once the home of Catherine de Medici, Diane de Poitiers and Princess de Broglie – beckons you indoors to admire its cosy and lavishly furnished interiors.

Your artistic senses are called on throughout the Domaine – installations by an array of contemporary artists in the château and along the footpaths of the park will catch you by surprise, captivate and inspire you all year round: Sarkis with the poetry of his brand new stained-glass windows, Jannis Kounellis with his amazing forest of wooden beams and bells, Giuseppe Penone with his "tree pathway", Armin Schubert with his spherical objects, Patrick Dougherty with his immense willow sculptures, Tadashi Kawamata with his promontory overlooking the Loire and tree huts ... and lots more besides. Other artists are due to arrive come April, whose names will be unveiled to you shortly: check in again on 6th April! The International Garden Festival is set to open on 25th April and, after all its preparations behind the winter scenes, will have lots of surprises in store for you!

Come to Chaumont-sur-Loire then, and you are in for a stroll quite unlike any other, around 32 hectares of grounds and a château ideally located on the Loire banks – in all seasons. You'll spend a day unbounded by time...

Access

Environment

In the country

In town

On the banks of the Loire

Spoken languages
Equipment

Services

Bar/refreshment booth
Boutique
Advice
Restaurant

Guided visits (groups only)
Self-guided visits (groups only)
Guided tours
Self-guided visits

Activities

Activities
Temporary exhibitions

Botanic walk
Evening entertainment
From 14 € to 19 €

From 4 € to 6 €

From 8 € to 12 €

From 28 € to 36 €

From 4 €
From

January 2, 2020




until

January 31, 2020

From

February 1, 2020




until

March 31, 2020

From

April 1, 2020




until

April 22, 2020

From

April 23, 2020




until

August 31, 2020

From

September 1, 2020




until

September 30, 2020

From

October 1, 2020




until

October 24, 2020

From

October 25, 2020




until

November 14, 2020

From

November 15, 2020




until

December 31, 2020
Wednesday

10:00 AM

5:30 PM

Thursday

10:00 AM

5:30 PM

Saturday

10:00 AM

5:30 PM
Wednesday

10:00 AM

6:00 PM

Thursday

10:00 AM

6:00 PM

Saturday

10:00 AM

6:00 PM
Wednesday

10:00 AM

7:00 PM

Thursday

10:00 AM

7:00 PM

Saturday

10:00 AM

7:00 PM
Wednesday

10:00 AM

8:00 PM

Thursday

10:00 AM

8:00 PM

Saturday

10:00 AM

8:00 PM
Wednesday

10:00 AM

7:30 PM

Thursday

10:00 AM

7:30 PM

Saturday

10:00 AM

7:30 PM
Wednesday

10:00 AM

7:00 PM

Thursday

10:00 AM

7:00 PM

Saturday

10:00 AM

7:00 PM
Wednesday

10:00 AM

6:00 PM

Thursday

10:00 AM

6:00 PM

Saturday

10:00 AM

6:00 PM
Wednesday

10:00 AM

5:30 PM

Thursday

10:00 AM

5:30 PM

Saturday

10:00 AM

5:30 PM
Leave a review about Domaine Régional De Chaumont-Sur-Loire :
Bad

Average

Good

Very good

Excellent
Château très bien et à refaire

Château et jardins superbes. Festival des jardins à visiter absolument. Une de mes destinations préférées pour un séjour calme et bucolique.

Très beau château bien entretenu, a visiter sans modération ! Un plus, la tablette tactile qui permet de faire cette visite avec un intérêt grandissant !

Mieux que les années précédentes

Le festival des jardins la nuit, c'est impressionnant et magique. La fraicheur du soir, les senteurs qui s'exaltent encore plus, le chants des animaux de nuit, on se croirait dans un roman fantastique. Je viens régulièrement à ce festival le jour, et c'est déjà super intéressant. On peut piquer plein d'idées pour son propre jardin. Mais la nuit ... Un des premiers jardin m'a fait pensée à la végétation luxuriante du film AVATAR de James Caméron, avec ses courbes et formes nombreuses, ses couleurs éclatantes et très lumineuses. J'ai également adoré l'arbre à sons qui m'a immergé ailleurs dans un monde fantastique.

It's very nice on the inside but the gardens are magnificent. Make sure to have enough time to not just see the château but also the gardens and especially the festival gardens

Magnifique domaine avec un château riche d une histoire peu commune, d anecdotes farfelues. Des jardins superbes et un accueil chaleureux

exterieur tres beau château,belle architecture. parc superbe. festival jardin tres interessant (ok pour les enfants) prevoir une grande apres-midi. gouter glaces parfums originaux eviter patisserie.