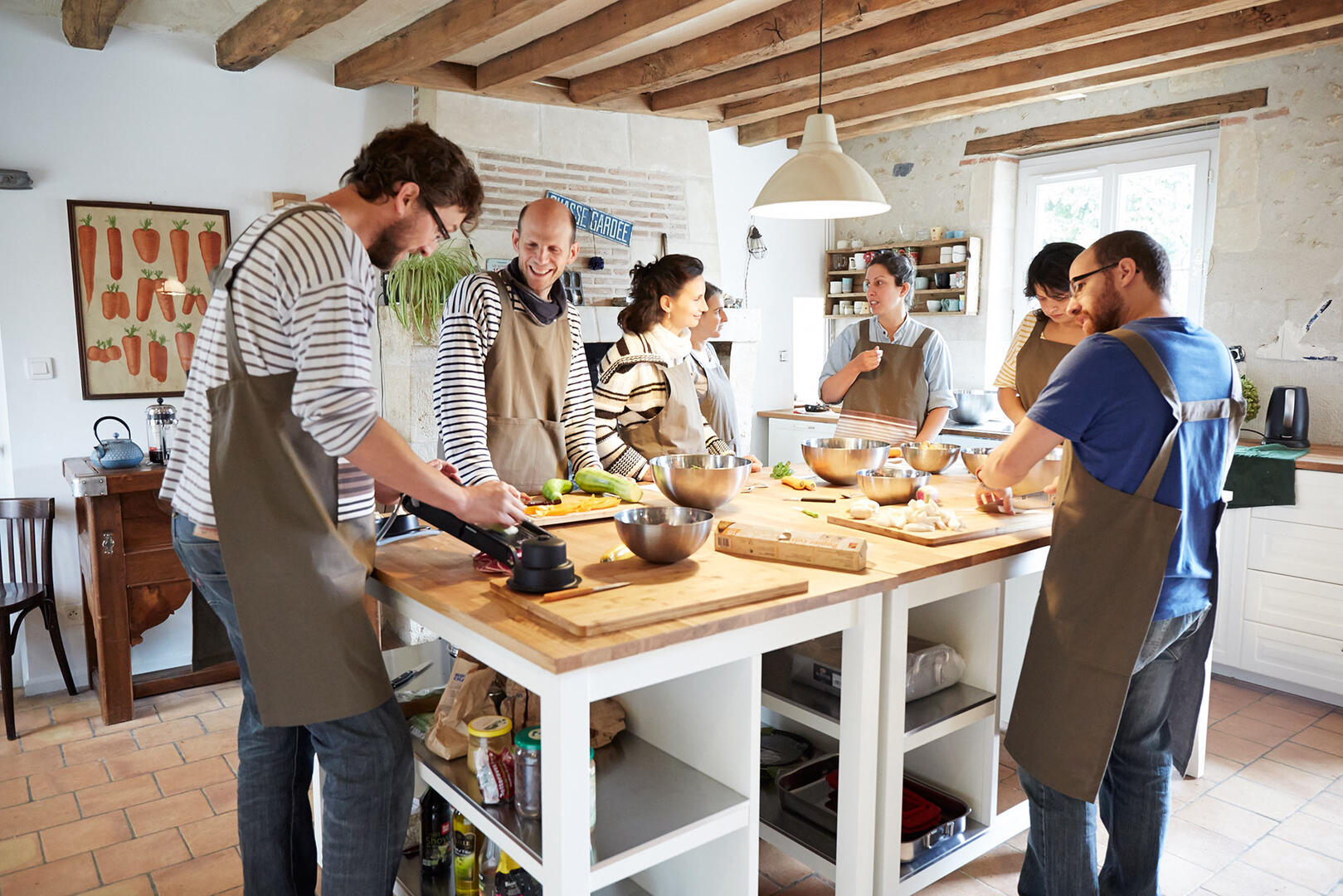 Les ateliers culinaires de la Grange aux savoir-faire
Farm produce
in Vallières-les-Grandes
Welcome to Guillaume & Julie's, an old renovated farm of the Loire Valley region in central France, for a day of cooking discovery.
In one day or an half-day worshop, take a French cooking class, learn how to knead your own bread, bake your own croissants or craft your own charcuterie that you will take home to enjoy with friends and family. Treat yourself to a countryside escape with the pleasures of taste and touch, the authenticity of essential knows-hows.
Wednesday

9:00 AM

6:30 PM
Leave a review about Les Ateliers Culinaires De La Grange Aux Savoir-Faire :
Bad

Average

Good

Very good

Excellent
Au delà du lieu qui est fantastique et si proche des chateaux de la Loire, c'est un moment hors du temps que j'ai vécu à la Grange. Un atelier cueillette suivi de top recettes. Toute la famille était ravie. Merci Guillaume et Julie

Merci Hélène ! Au plaisir de te retrouver, toi et ta famille à la Grange. Même si il faudra attendre la rentrée, vous allez adorer l'atelier cuisine végétarienne de Eva, notre super cuisinière !

Nous sommes venus à la Grange aux Savoir-faire avec mon mari et nos 3 enfants durant les vacances de Toussaint 2017. Nous avons participé à l'atelier cueillette à la Ferme et Cuisine Sauvage. La ballade accompagnée de notre guide était très intéressante. La formatrice s'est montrée très pédagogue et bonne oratrice. Nos enfants ont adoré et nous en parlent encore.. L'atelier culinaire qui s'est ensuite déroulé nous a tous enchanté, et même notre ado y a participé avec plaisir . La Grange est un endroit formidable , en pleine Nature et sa proximité des Châteaux de la Loire rend ce lieu très attractif. pour organiser un week end en famille ou entre amis.. Sans compter l'accueil de toute l'équipe... A refaire :)

Une belle journée entre amis à la découverte des plantes sauvages et comestibles. Atelier cuisine après la cueillette : nous nous sommes régalés de nos préparations ! Accueil et organisation au top.

Un atelier culinaire original près d'Amboise

Nous sommes venus passer un week-end entre amis avec tous nos enfants dans le Val de Loire et nous avons choisi de faire une activité Cueillette et cuisine sauvage proposée par la Grange aux savoir-faire. Nous avons adoré l'accueil chaleureux de Guillaume et Julie dans leur sublime ancienne ferme, la ballade dans la nature avec Amandine, la convivialité de faire la cuisine tous ensemble et surtout la dégustation de fin de journée. A faire sans hésiter !